The Ghosts are all painted in a particular technique on a rough textured acrylic base. The silver paint is difficult to photograph, but they kind of glow on the walls and have a strong presence in low light. 
__________________________________________________________________________
Compiled of pieces from old ghost paintings that I destroyed one day in December. Assembled together with some awful corresponding stories of violent, scary men and violent, scary sex.
This was a piece for a #metoo show and won the Sponsor's Award.​​​​​​​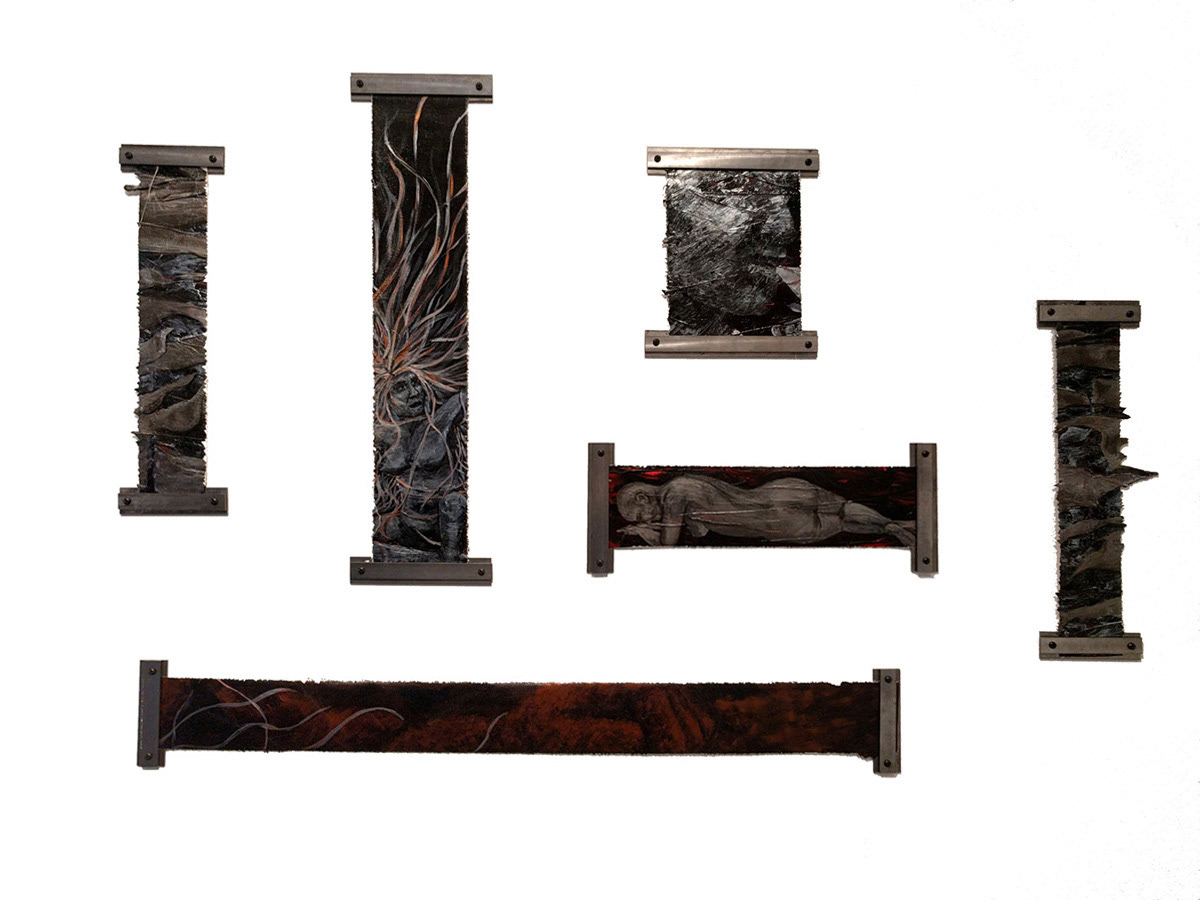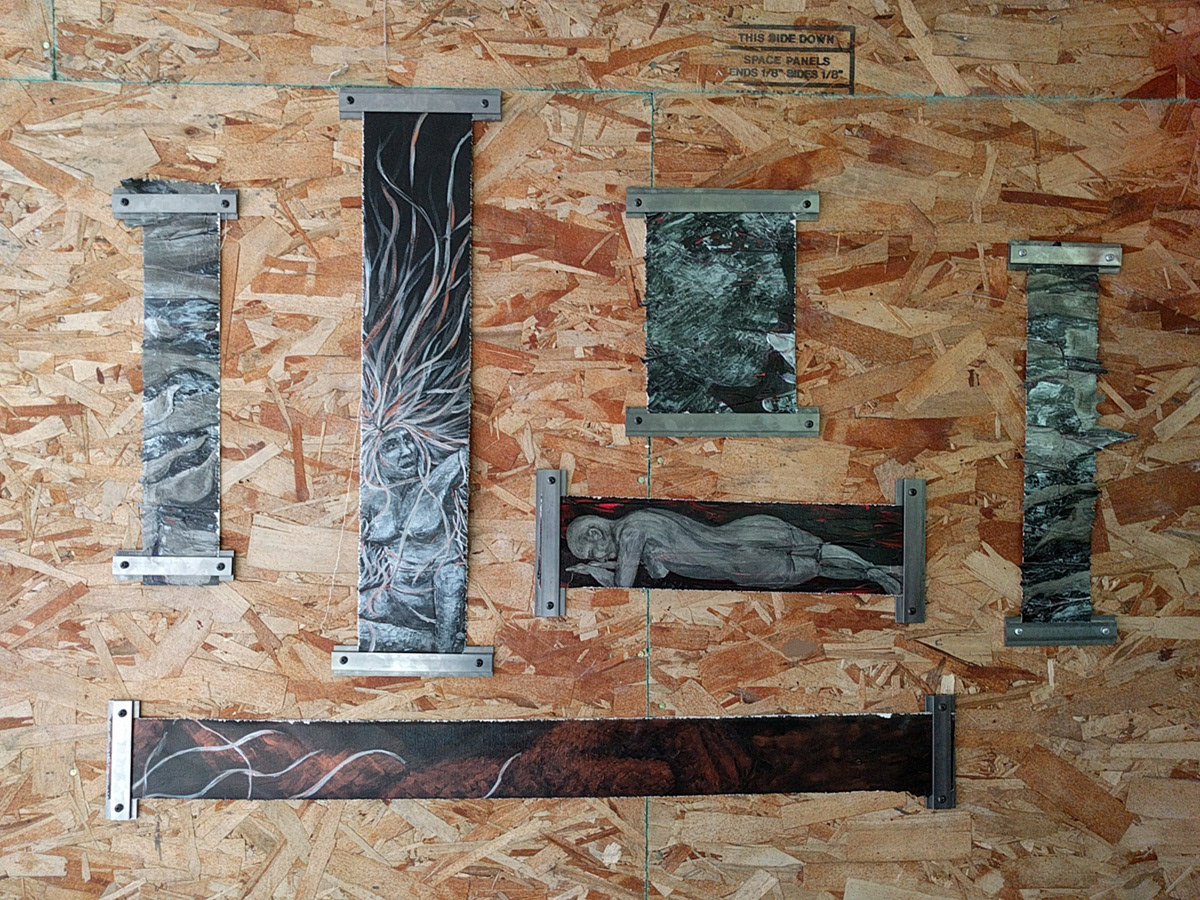 __________________________________________________________________________
The study of gesture and expression, or what happened that year I became obsessed with hands.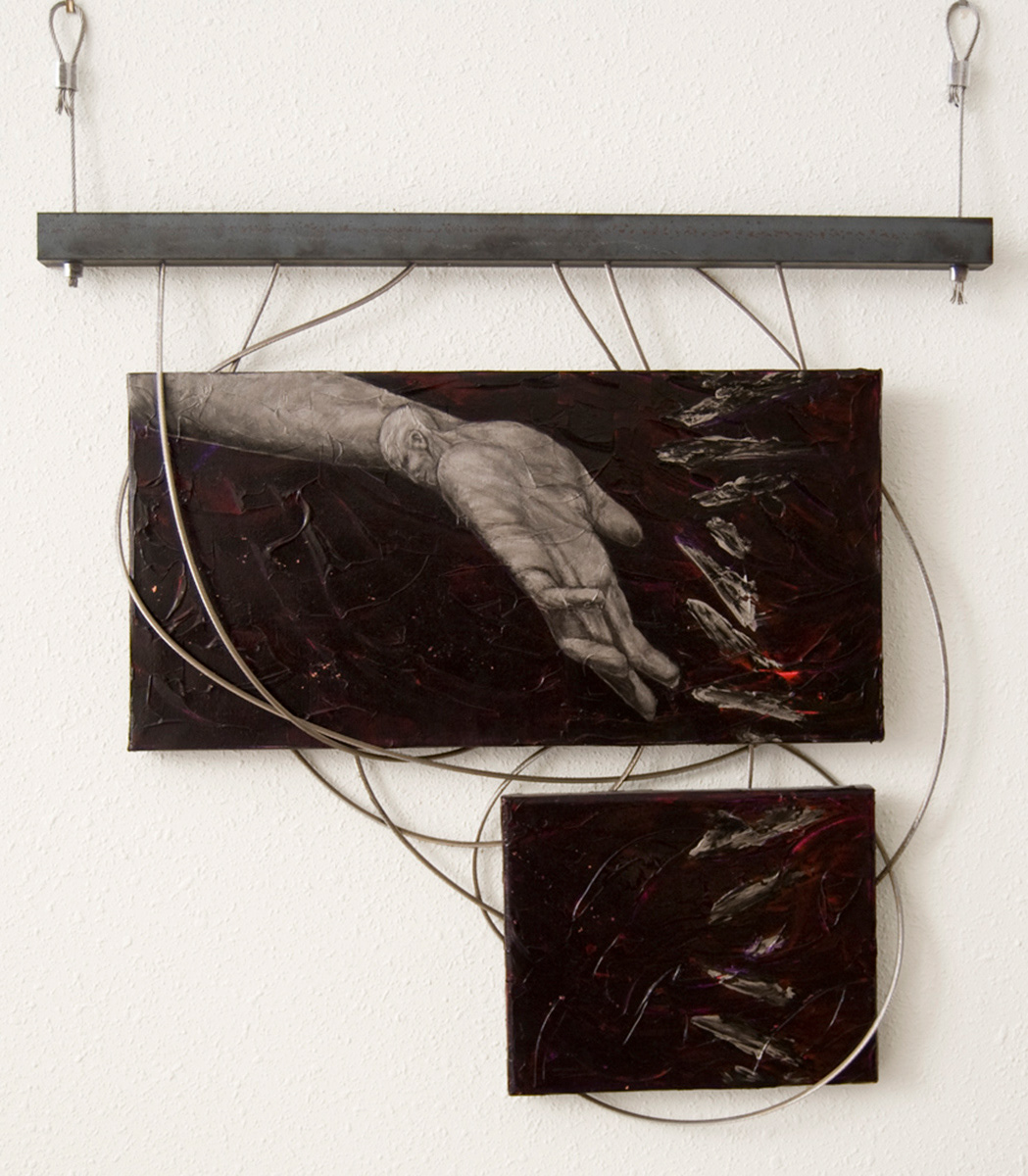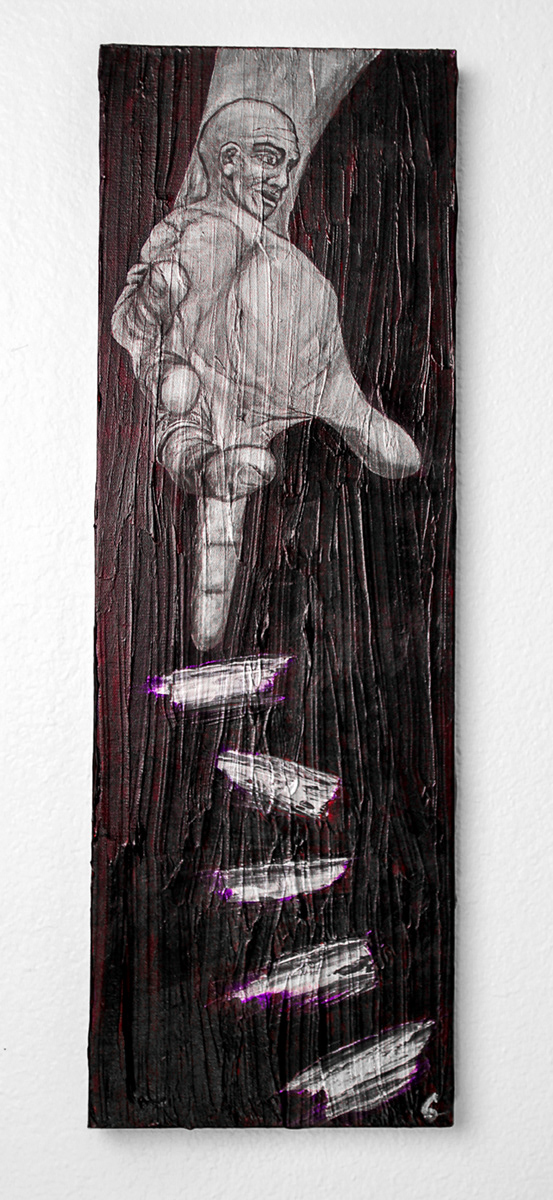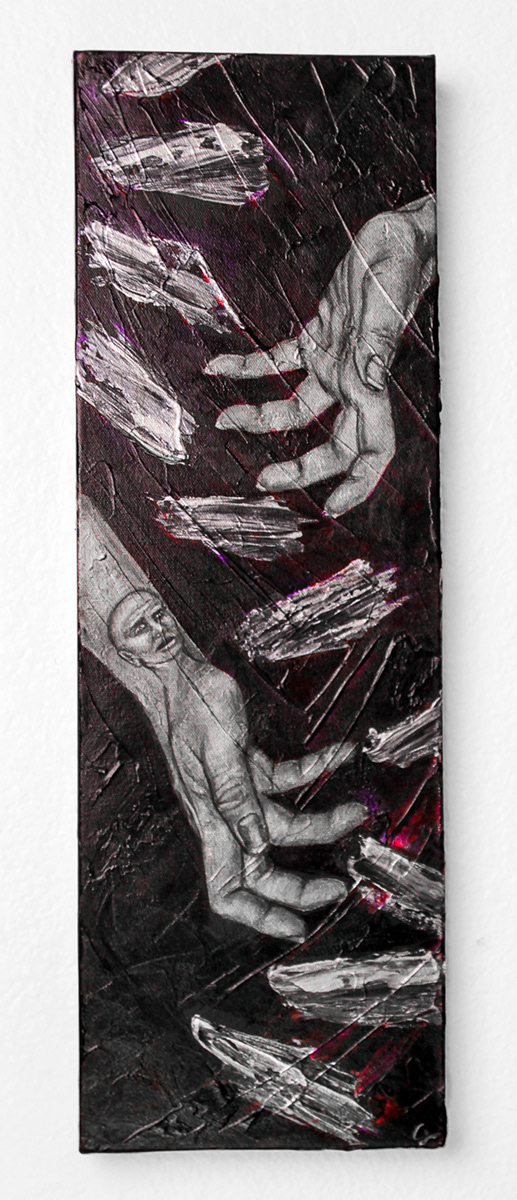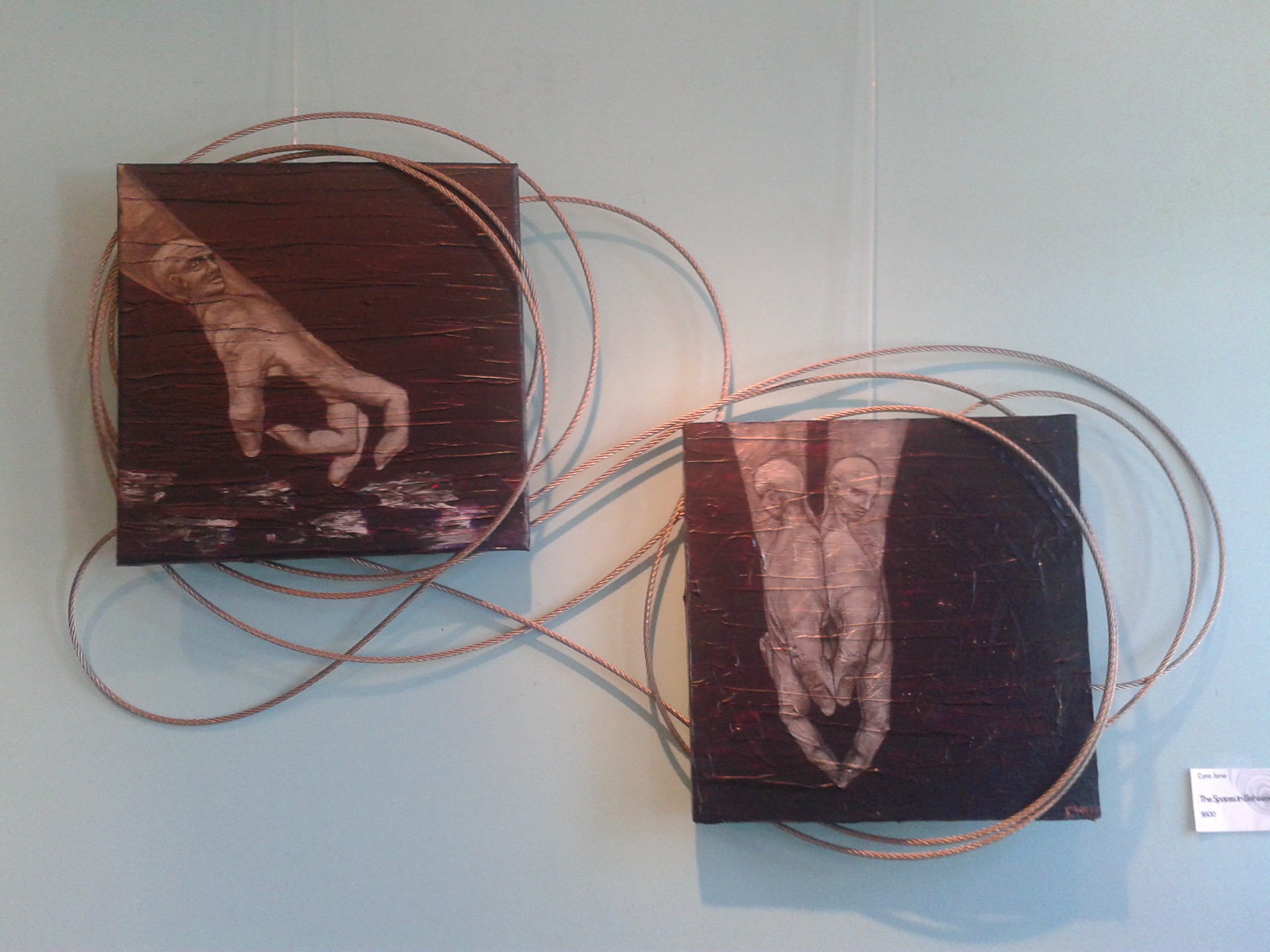 __________________________________________________________________________
Mostly relationships. Three of these are in Private Collections, Two were destroyed for I, the Other.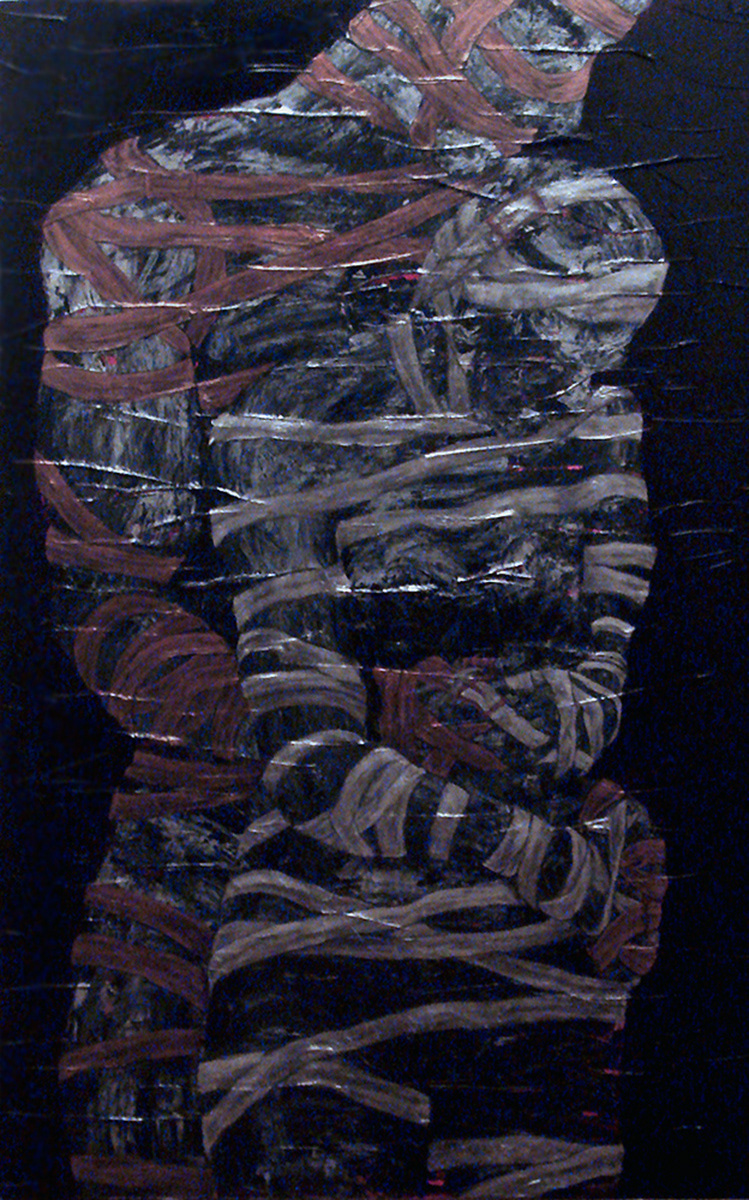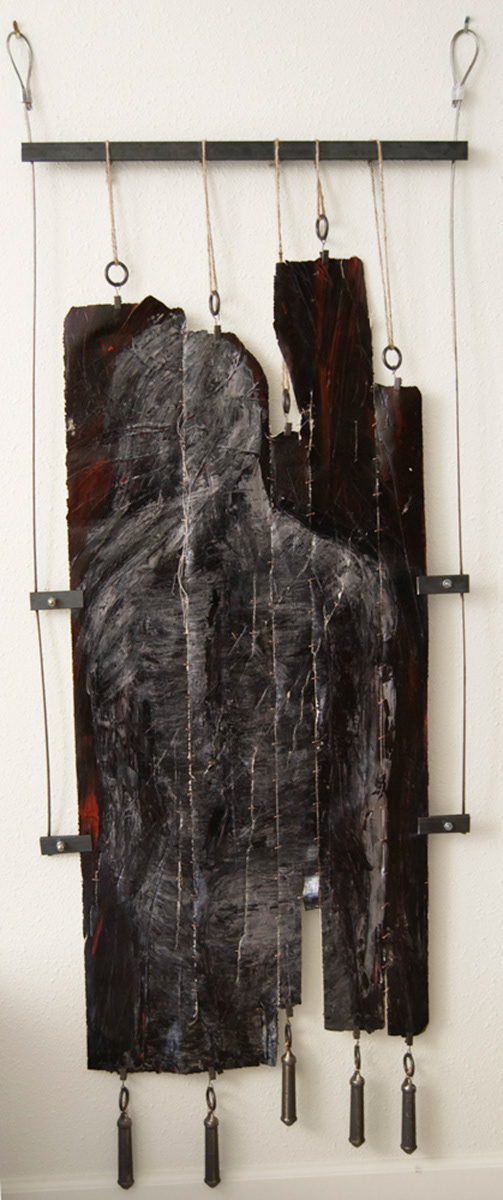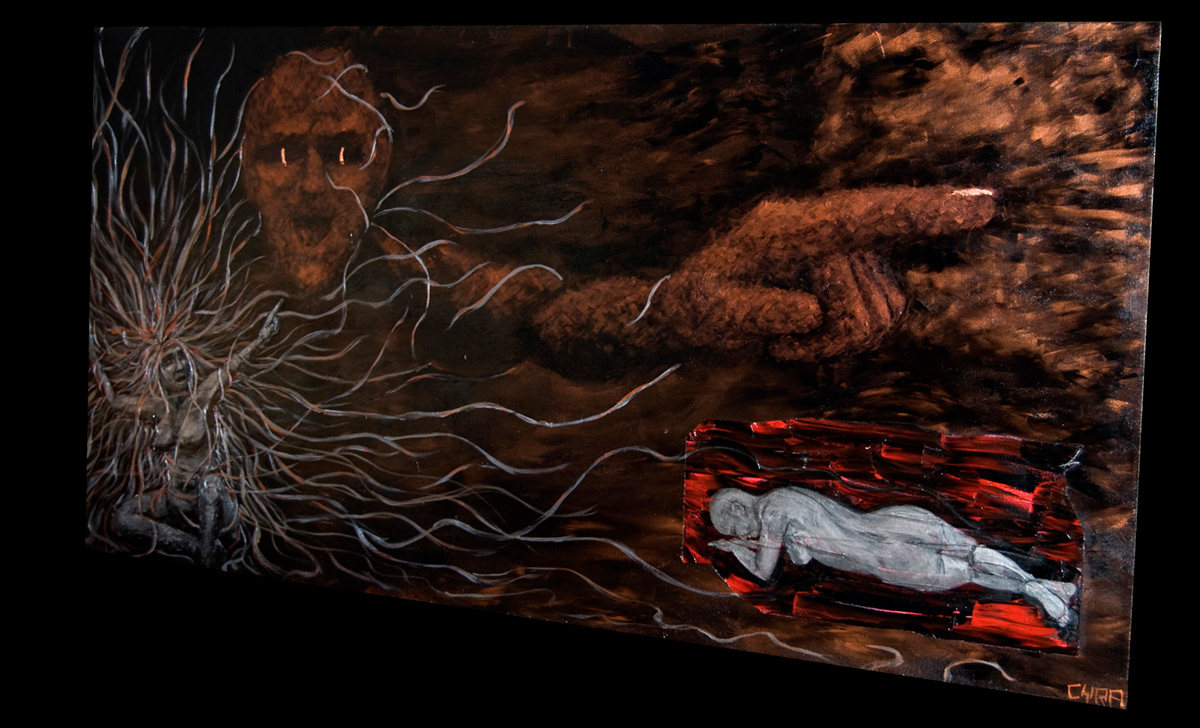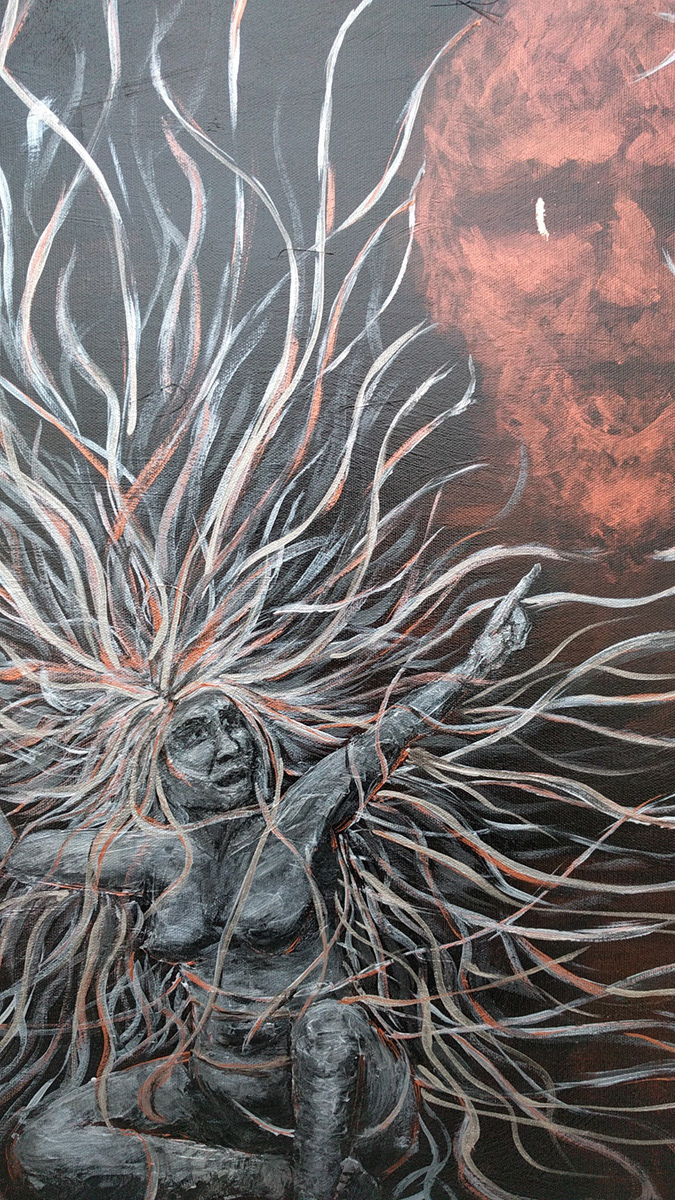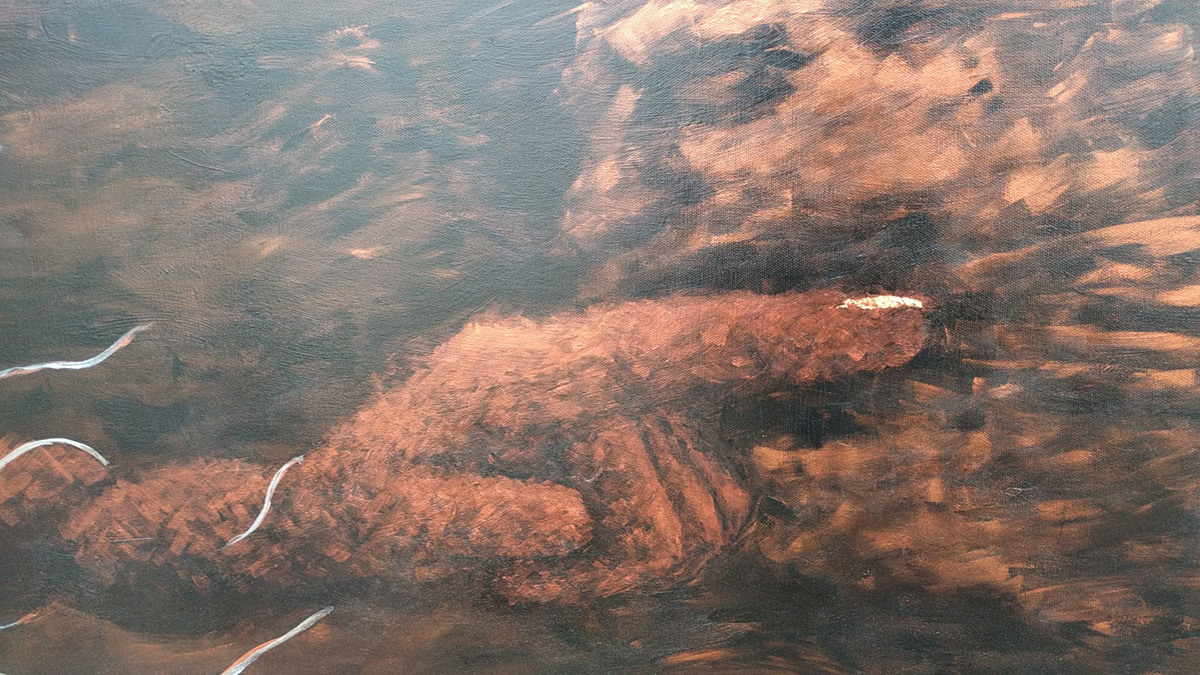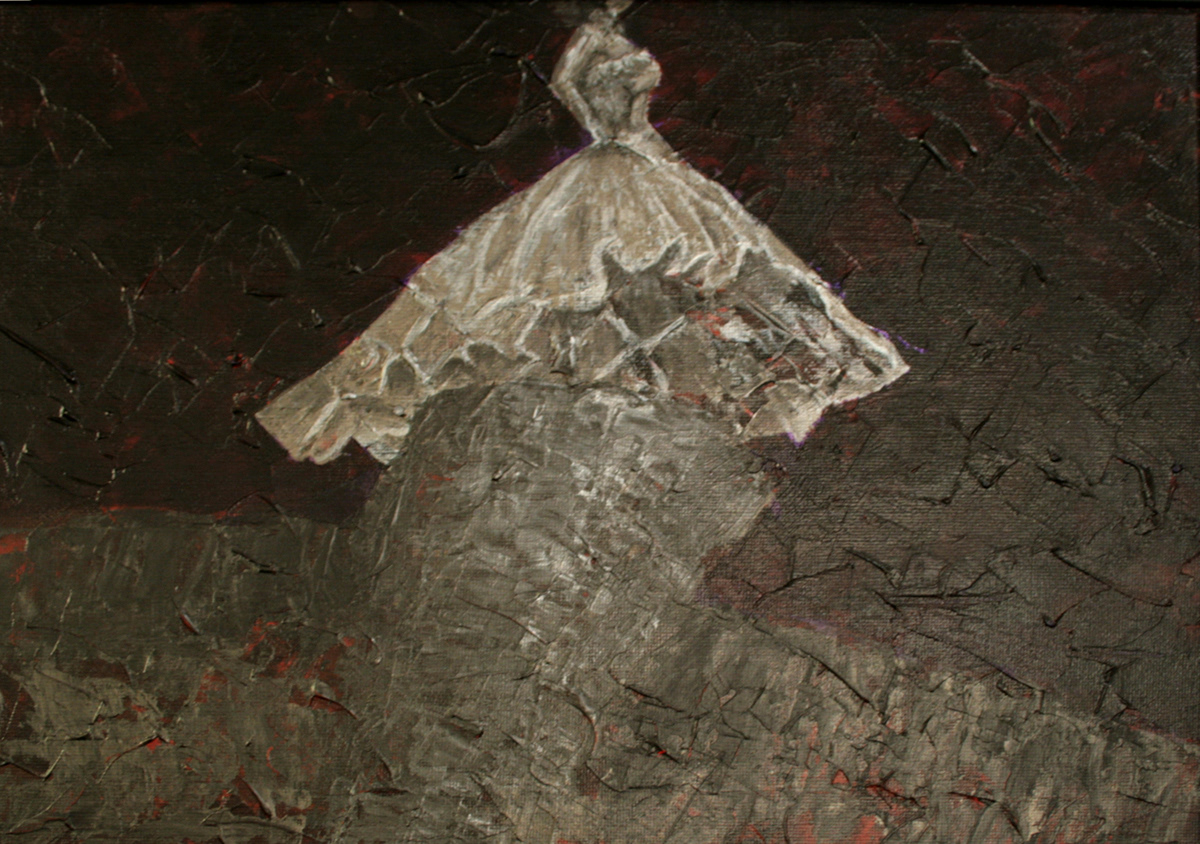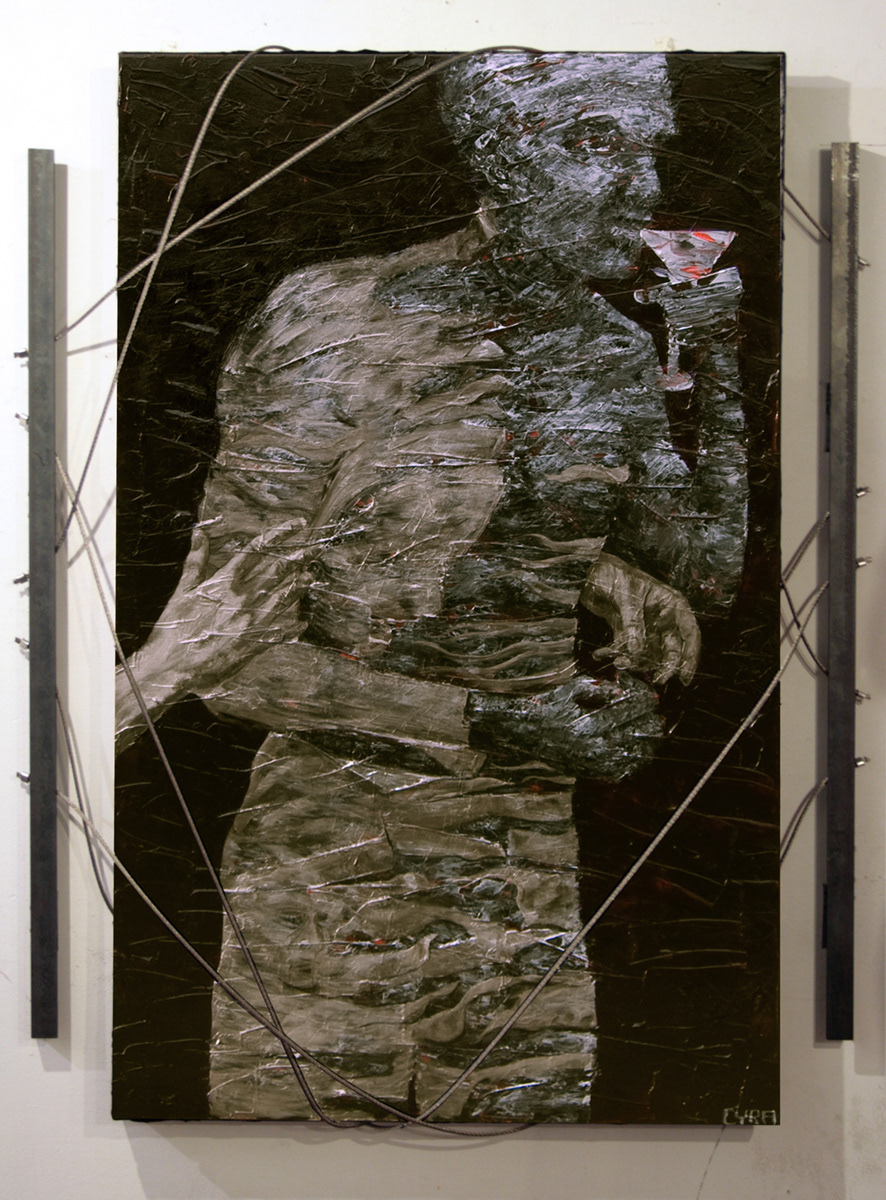 _____________________________
_____________________________________________
The Elephant on My Stomach
Painted for a 30 paintings in 30 days challenge, this was a huge lesson for me in the transformative power of artwork. 49 other artists participated in the challenge for a show that opened to thousands in Seattle's Pioneer
Square. The 49 other artists painted leaves and happy faces and snowmen vomiting christmas bulbs.


The Babies I painted, as I called them, were screaming pumpkin headed nudes of obese women with a distinctive body shape. My body shape. On them I wrote the worst thing I could think to go with each pose. And they were horrible. All 30 created this terrible arc of pain and negativity and pity. As a project, The Elephant on My Stomach was beautiful, but each one was just a punch in the gut to look at.

I inadvertently hurt thousands of people and that felt awful. 
This was in 2010. I don't feel any of these things anymore, much in thanks to this project.
Each one is 8" x 10" acrylic on canvas board. 
An intro from my book:
A few months before this series I'd started taking 5-htp to regulate my serotonin. I had never experimented with any prescription SSRIs or the like outside of the three days I tried Lexapro (on which I wanted for nothing but to lay in bed staring at the ceiling and after which I couldn't have an orgasm for two months) for good reason. 5-htp is one half of serotonin (it combines with tryptophan to create the coveted neurotransmitter) and is sold as a supplement.  I've often heard that the first few weeks of experiencing increased levels of serotonin can be rough, and that cycle of trial periods for every prescription drug was part of my reasoning in avoiding them, but I didn't really expect taking a supplement to be so… dramatic. 
The ride up was intense as hell and I was crying everyday and hearing voices telling me to kill myself. While I certainly have a lifetime of experience with periods of crying every day, the latter one was a disconcerting new shock. In all the dealings with hell I'd had and all the death fantasies and all that, I hadn't ever had suicidal tendencies. I'd never actively considered it; I had places to go and things to do.  I mean, yeah, somewhere right on the other side of the curtain was a nagging suspicion that if I ever were to just end it, it would be a completely impulsive act and neither I nor anyone else would be able to see it coming. But I never really took that seriously. Everyone has a lemming drive in there somewhere.
This was also the first auditory hallucination I'd ever, and have since, heard. So when I'm driving on Redwood Highway between Grant's Pass and 101 to pick my parents up at the airport and take them to my cousin's wedding and out of the blue someone in the car (there was no one in the car) says, "Do it Now," it was too surreal for me to take any kind of action, even if any of my rational brain wanted to. For weeks I dealt with randomly hearing this impulse before it subsided, as did the crying. I stabilized into a better, more solid place then I was before.
I determined that if I really wanted to do this 30x30 purge of the barrage of negative self-image voices *right*, I'd do it on the following schedule:
Day One: Stop taking 5-htp.
Day Five: Buy a handle of Jameson
Day Fourteen: Start taking 5-htp   
Day Twenty: Buy another handle of whiskey
 The purge went right according to plan. I painted in spurts of 5-6 at a time, each painting taking three turns to finish. One, the black/red background in palette knife. The second, an undercoating in silver of the basic body shape, gesture, and facial expression - These were pretty intense days of painting; my paintbrush tracing out the curves and grimaces while tears would stream down my face. Or, stoically, I'd focus on the proportions and save the feelings for the next session. 
The final session with each baby painting was by far the worst and the most revelatory. This is where all the top layer painting went on, the shading and the highlighting, and then the details of the hands and feet and genitalia and the fat fold at the waist, the I can't believe I'm painting my naked body and how could that possibly be me and why am I deformed and why do I deserve this and what's the most horrible thing this painting says about me? And then write that down. Right on the painting.
It's out, it's gone. On to the next.